日本 JaICA代理 Anti HEL monoclonal antibody
日本 JaICA 老化 Antibody系列产品
上海金畔生物作为日本 JaICA 老化中国代理商,欢迎新老客户访问日本 JaICA 老化官网或者咨询我们获取更多日本 JaICA 老化产品线价格说明书等信息。
日本老化制御研究所 Jaica代理
抗己酰-赖氨酸单克隆抗体 Anti Hexanoyl-Lysine(HEL) monoclonal antibody(5F12)
抗己酰-赖氨酸单克隆抗体 Anti Hexanoyl-Lysine(HEL) monoclonal antibody(5F12)
适用于免疫组织化学和ELISA。

Suitable for immunohistocheistry and ELISA. For research use only.
Oxidative damage of lipids caused by reactive oxygen species (ROS) play an important role in some diseases, lesion of cell functions and aging. Aldehydes such as malondi-aldehyde (MDA) and 4-hydroxy-2-nonenal (4-HNE) have been reported as one of the advanced lipid peroxidation products. But recently in the earlier stage of lipid peroxidation, 13-hydroperoxyoctadecanoic acid (13-HPODE) is found to be covalently bound to proteins1). Hexanoyl-Lysine adduct (HEL) is a novel lipid hydroperoxide-modified lysine residues. HEL is formed by oxidative modification by oxidized omega-6 fatty acids such as linoleic acid or arachidonic acid. This monoclonal antibody (clone 5H4)is spesific for proteins and peptides containing HEL. Suitable for HEL detection by immunohistochemistry and western blotting.
由活性氧(ROS)引起的脂质氧化损伤在一些疾病,细胞功能损害和衰老中起重要作用。醛类(如丙二醛/MDA)和4-羟基-2-壬烯醛(4-HNE)已被报道为先进的脂质过氧化产物之一,但最近在脂质过氧化的早期阶段,发现13-hydroperoxyoctadecanoic acid(13-HPODE)与蛋白质1)共价结合。
己酰-赖氨酸加合物(HEL)是一种新的脂质氢过氧化物修饰的赖氨酸残基, HEL通过氧化的omega-6脂肪酸(例如亚油酸或花生四烯酸)氧化修饰形成。
抗己酰-赖氨酸(HEL)单克隆抗体对于含有HEL的蛋白质和肽是特异的,适用于通过免疫组织化学和免疫印迹的HEL检测。
A new biomarker for lipid peroxidation   脂质过氧化新的生物标志物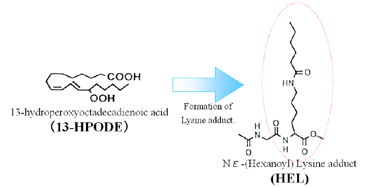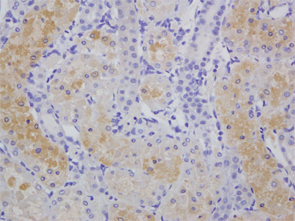 Cisplatin-treated rat kidney. 顺铂处理的大鼠肾脏
(Dr. Sugiyama, Tottori Univ.)  (Sugiyama博士)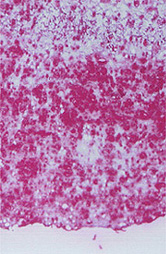 Detection of HEL at Human atherosclerotic lesions.
(Dr. Naito)
HEL在人类动脉粥样硬化病变的检测  (Naito博士)
Clone #:
5F12
Subclass:
IgG1 kappa
Antigen:
N epsilon hexanoyl-Keyhole limpet hemocyanin (HEL-KLH)
Specificity:
Specific to Hexanoyl-Lys adducts.
Form:
Lyophilized power. Containing 10mM PBS(pH7.4), 5% sucrose, 1% BSA and 0.05% Procline 950. 100 碌g/mL of IgG.
Application:
Immunohistochemistry
(Recommended antibody concentration is 2 碌g/mL on paraformaldehyde fixed tissue), and ELISA
Storage:
Less than -20C
• 技术参数
克隆#:5F12;
亚基:IgG1 kappa;
抗原:N epsilon己酰-钥孔血蓝蛋白(HEL-KLH);
特异性:特异于己酰-赖氨酸加合物;
形式:冻干粉,100μg/mL(200μL),PBS(pH7.4),包含5%蔗糖,1% BSA;
应用:免疫组织化学(多聚甲醛固定的组织推荐抗体浓度为2μg/mL)和ELISA;
储存:低于-20°C
参考文献:
1)
Yoji Kato, Yoko Mori, Yuko Makino, Yasujiro Morimitsu, Sadayuki Hiroi, Toshitsugu Ishikawa, Toshihiko Osawa, Formation of N epsilon-(hexanonyl) lysine in protein exposed to lipid hydroperoxide. J Biol Chem 274(29), p20406-20414 (1999)
Identification of HEL, which is lysine adduct of 13-HPODE.
2)
Kato Y, Miyake Y, Yamamoto K, Shimomura Y, Ochi H, Mori Y, Osawa T, Preparation of a monoclonal antibody to N(epsilon)-(Hexanonyl)lysine: application to the evaluation of protective effects of flavonoid supplementation against exercise-induced oxidative stress in rat skeletal muscle. Biochem Biophys Res Commun 274(2),p389-393(2000)
Development and characterization of anti HEL monoclonal antibody.
3)
Fukuchi Y, Miura Y, Nabeno Y, Kato Y, Osawa T, Naito M, Immunohistochemical detection of oxidative stress biomarkers, dityrosine and N(epsilon)-(hexanoyl)lysine, and C-reactive protein in rabbit atherosclerotic lesions. J Atheroscler Thromb 15(4)p185-192(2008)
Application to rabbit atherosclerotic lesions.
4)
Maeda R, Noiri E, Isobe H, Homma T, Tanaka T, Negishi K, Doi K, Fujita T, Nakamura E, A water-soluble fullerene vesicle alleviates angiotensin II-induced oxidative stress in human umbilical venous endothelial cells. Hypertens Res 31(1)p141-151(2008)
Application to cultured cells (HUVECs).
5)
Sango K, Yanagisawa H, Kato K, Kato N, Hirooka H, Watabe K: Differential Effects of High Glucose and Methylglyoxal on Viability and Polyol Metabolism in Immortalized Adult Mouse Schwann Cells. Open Diabetes J. 1, p1-11(2008)
Application to cultured cell from mouse.
产品信息:
| | | | | |
| --- | --- | --- | --- | --- |
| Product name | Code | Specifications | Application | NOTICE |
| Anti HEL monoclonal antibody(clone 5F12) | MHL-021P | 20ug of IgG | Immunohistochemistry | Current product |
| Anti HEL monoclonal antibody(clone 5H4) | MHL-020P | 20ug of IgG | Immunohistochemistry | Discontinued |
使用说明书
免疫组织化学方法
技术信息
克隆#5F12和5H4的比较